Antler King Great 8™
Deer's 8 Favorite food sources
Great 8™ is a fall annual food plot blend featuring eight specially selected seed varieties that mature at different times throughout the hunting season to help ensure your deer always have something good to eat. Great 8™ eliminates the guesswork of trying to figure out what to plant and is ideal for those who plant just one food plot. The winter peas, buckwheat and ryegrass will attract deer during bow season, while the radishes, turnips and forage rape attract deer during the rut. The winter oats and cereal rye mature from early bow season to late gun season and beyond. Great 8 can provide the protein and critical energy needed to sustain your deer herd well into the harsh, cold winter while also helping antler growth in the early spring season when other plants have yet to turn green. Great 8 keeps growing strong all hunting season long!
Contains Winter Oats, Tetraploid Ryegrass, Winter Peas, Cereal Rye, Radish, Turnip, Forage Rape and Buckwheat
Early fall to late winter food source
High in protein and energy
Proven high traffic
Deer's 8 Favorite food sources
Antler King®'s GREAT 8™ is a fall annual food plot blend that consists of eight specially selected plant varieties. These varieties help ensure there are always plants maturing and available to graze on. If you are not certain what to plant and want to make sure your food plot always has something for deer to eat, plant GREAT 8.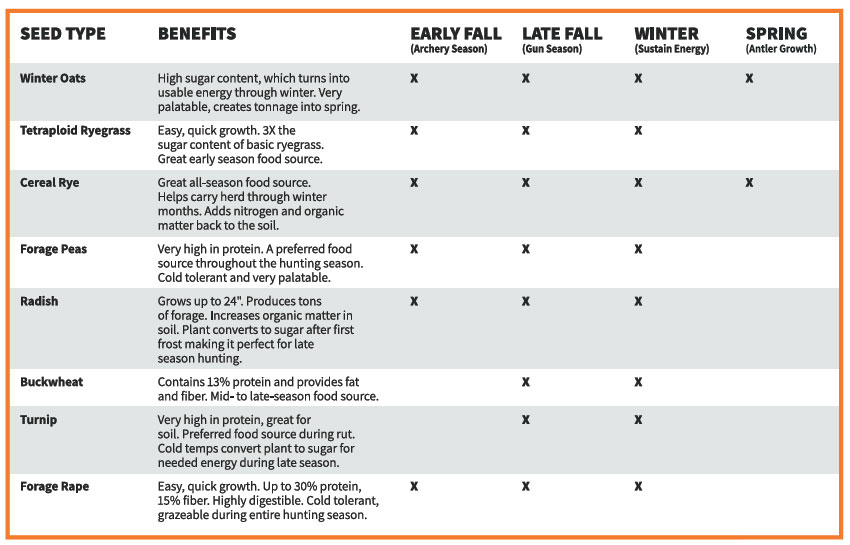 Directions for Use.
PLANTING DIRECTIONS:
1.) Antler King®'s GREAT 8™ may be planted in the late summer or early fall.
2.) Take a soil test to determine the pH level. If needed, apply enough lime to raise the pH to a 6.5 to 7.0.
3.) Eliminate any existing weeds on the proposed plot, either by raking, mowing, discing, or spraying with a contact weed killer, such as Roundup®. Wait 7 days to plant after spraying with any weed killer.
4.) To maximize growth potential, spray Antler King®'s PLOT MAX™ to help raise the pH, aerate the soil, increase organic matter, help the soil retain moisture and create an environment for the plants to thrive. Optimal results can be achieved by reapplying PLOT MAX™ in both spring and fall.
5.) One 8lb. bag will plant 1/4 acre (approx. 11,000 sq. ft.) and one 40lb. bag will plant 1-1/4 acre. Spread 100 lbs. of 19-19-19 fertilizer per ¼ acre and till into the soil prior to planting. Plant seeds less than 1/4″ deep.
6.) After plants are 3 inches tall, spray with Antler King®'s JOLT™ FOLIAR FERTILIZER, which has been formulated to provide food for plant growth. Spray monthly for best results.
CONTAINS SPECIAL VARIETIES OF:
Winter Oats, Ryegrass, Cereal Rye, Forage Peas, Radish, Buckwheat, Turnip, Rape
WARRANTY:
Antler King® warrants that this product conforms to the description on the label, complies with applicable state and federal laws, and is fit for the purpose referred to in the "Directions for Use." Antler King® makes no other warranty, express or implied, including warranties of fitness for a particular purpose or of merchantability. In the event any product fails to conform to the warranty outlined above, Antler King®, shall at buyer's option, refund the purchase price of the defective product or replace the product. This refund or replacement shall be the buyer's sole and exclusive remedy and in no event shall Antler King® or the seller be liable for consequential, incidental, special, direct or indirect damages resulting from the use or handling of this product.
---
We Also Recommend